Top 10 UnderReported Stories of 2007

Top 10 UnderReported Stories of 2007
2007 - Top 10 UnderReported Stories
...................
IME magazine has just released their annual Top 10 lists of 2007 and the following are the major news stories of 2007 that received little or no mainstream media coverage.

......................................................



#1. The Other Darfur

Infighting in Somalia has been so bad for so long that reader — and editor — fatigue set in years ago. Which is why many Americans were surprised to hear that more than 1 million Somalis had fled their homes in 2007 in a refugee crunch whose scope and severity rival that of Darfur. "We have a major crisis," Ahmedou Ould-Abdallah, the top U.N. envoy for Somalia, told TIME. "And it's being ignored." The violence hampering humanitarian efforts has also kept U.N. forces at bay. It's a Catch-22, Ould-Abdallah says. "We cannot go there because there is no security, and because we don't go there, there isn't security."



#2. A Nuclear Six-Pack

In August, when six nuclear weapons were accidentally loaded onto the wing of a B-52 bomber and flown from North Dakota to Louisiana, it was not so much a case of imminent danger — experts agree that if the plane had crashed, fail-safe devices would have prevented the warheads from detonating — but rather a glaring display of how easily our nuclear safeguards can fall apart. In violation of security protocol, the crew only checked the missiles on the wing that contained dummy warheads. And the mistake, which marks the first time in nearly 40 years that nukes have flown over U.S. airspace on the wings of a bomber, went unnoticed for more than 36 hours.


#3. U.N. Dials Back AIDS Estimates

The United Nations revealed it had overestimated the number of people infected with HIV by some 6.3 million worldwide and lowered the 2007 total to 33.2 million. The reduction is based on better reporting methods, particularly in India and sub-Saharan Africa. Efforts to curb the disease also appear to be working, with the new report noting that annual infection rates likely peaked in the late 1990s. But public-health advocates worry these signs of improvement could lead to complacency. Dr. Andrew Zolopa, an HIV expert at Stanford, warns against "lowering our guard," adding that 33.2 million is "still a very big number."


#4. Undue Influence at the White House?

In July a Congressional oversight committee revealed that despite a law prohibiting most federal officials from engaging in partisan political activities, the White House praised high-ranking officials at the Office of National Drug Control Policy for appearing on behalf of as many as 18 Republicans in competitive races in the three months leading up to the 2006 election. For example, during this time period, officials appeared at two events for Missouri Senator Jim Talent, who ended up losing the election. These findings — coming just after former Surgeon General Richard Carmona testified that the White House had barred him from speaking out about such issues as stem-cell research, and amid an investigation into the firings of several U.S. Attorneys — raise even more questions about the White House's political influence over federal agencies.


#5. Coming to Grips with TB

Tuberculosis — as a plane-hopping honeymooner reminded Americans this summer — isn't restricted to the developing world. According to the World Health Organization, to date 41 countries have confirmed cases of extensively drug-resistant TB. And the region with the highest level of TB treatment failures? Europe. As a result, 15% of new TB cases in Eastern Europe, the Baltic States and Central Asia are multi-drug-resistant, a rate three times higher than in any other part of the globe. Yet most doctors are still forced to use TB treatments that are some 50 years old and even more antiquated detection methods.



#6. Angola's Booming Economy

After nearly three decades of civil war that ended in 2002, having claimed more than 500,000 lives, Angola was a devastated and broken nation. But five years later, thanks to increased oil production, the International Monetary Fund estimates the sub-Saharan nation's economy will have ballooned 24% this year, one of the fastest growth rates in the world. (In comparison, China's booming economy is projected to grow 11.5% this year.) The government is putting some of this wealth into new roads and public transportation, but critics worry the influx of cash is mostly lining the pockets of the elite — and building mansions in the capital city of Luanda.


#7. Obesity Rate Levels Off Among U.S. Adults

As child obesity rates continue to rise in the U.S., the Centers for Disease Control and Prevention reported that obesity rates among American adults have been holding fairly steady at 34% — or some 72 million people. Although the study found no significant increase in adult obesity between 2003 and 2006, medical experts are reluctant to classify this as a victory against the obesity epidemic. "It's possible that we're just up against a ceiling," says Kelly Brownell, director of Yale University's Rudd Center for Food Policy & Obesity.



#8. Brazil's Big Oil Find

In November, Brazil's state-run oil company Petrobas announced the largest oil discovery worldwide since 2000. Though the country is already a self-sufficient oil producer, the new Tupi field — located off the eastern coast of South America, beneath a crust of salt a mile thick in some places—could turn Brazil into a major exporter to rival Saudi Arabia and Venezuela. Brazil wasted no time in protecting the area that is expected to produce as much as 8 billion barrels of light crude oil. The day after the Petrobas announcement, the government withdrew 41 exploration blocks in the Tupi region from an auction for private companies.



#9. Earmarking — Alive and Well

Despite their party's pledge to cut back on earmarking in federal spending bills, many Democrats continue to tack on funds for pet projects. One of the biggest — and most unabashed — pork procurers is Rep. Jack Murtha of Pennsylvania. In 2007 alone, he pushed through $166.5 million in earmarks, including $23 million for the National Drug Intelligence Center, which is located in his hometown of Johnstown, Pa. Murtha, who chairs the powerful defense-appropriations committee, managed to keep funding the center even after the General Accountability Office declared it was not only a waste of money, but a duplication of intelligence work being done elsewhere.


#10. Déjà Vu in East Africa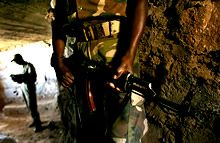 In what looks alarmingly like the lead-up to the border war that killed 70,000 people less than a decade ago, tensions are once again building between Ethiopia and neighboring Eritrea, with the International Crisis Group estimating that each country has at least 100,000 troops poised for battle. The conflict centers on the town of Badme, which a U.N.-appointed boundary commission awarded to Eritrea in 2002. But Ethiopia refuses to comply, despite having signed a binding agreement. Other countries are exerting pressure to try to prevent another border war, with the U.S. State Department recently requesting that both sides exercise maximum restraint.


» For the other Top 10 Lists of 2007, please visit: TIME online
Related Articles